TL;DR
I will build a toy from my infancy using techniques learned and materials used during this quarter.
Backstory
Growing up in Mexico City, I somewhat remember a small toy with the shape of a box that you could slide open and be greeted with a snake moving quickly towards your finger unexpectedly.
At some point, I noticed that the box had a mechanism connected to the sliding door that would make a small snake figure rotate outwards from the box towards the place you'd put your finger to pull it. The mechanism was extremely simple -- it used a string to pull the snake outwards when the door was slid open, and inwards when closing the door.
I googled some random words, and found something pretty similar: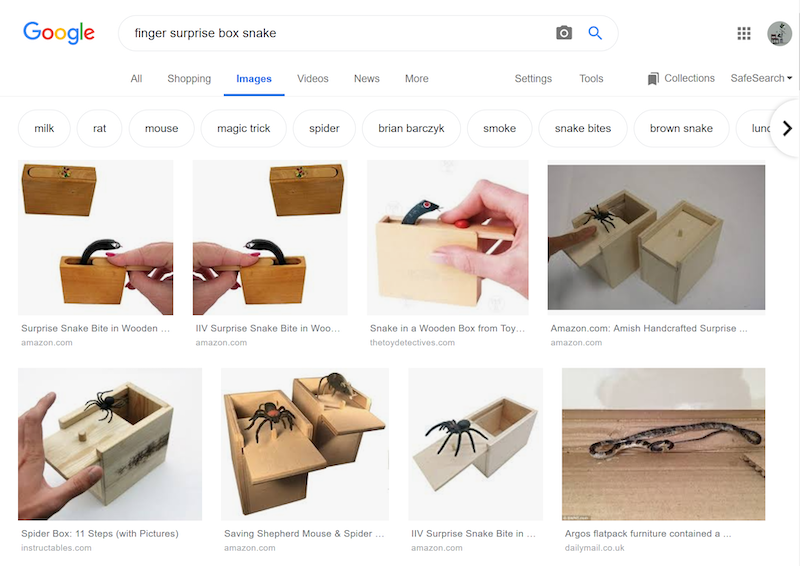 USE CASE
The intended use case for this box is to scare the curious individual who dares open it.
BREAKDOWN OF TASKS
Breakdown of tasks for the final assignment

| Technique | Component |
| --- | --- |
| 3D Modelling + laser cutting | Box sides 3D printing, |
| Mechanism design | Mechanism/gear that raises the surprise |
| 3D Printing | Critter/surprise |
| Milling | Internal pockets and spaces to place the mechanism |
BILL OF MATERIALS & SOURCING SCHEDULE
Bill of materials and sourcing schedule for assignment 8

| Material | Sourcing status |
| --- | --- |
| Frosted acrylic | Own (leftovers from the lamp assignment). |
| Filament for 3D printing | Have access to it (not officially mine). |
PLAN
Detailed plan and timeline for assignment 8

| Tasks | Time ETA | Date start | Date finish |
| --- | --- | --- | --- |
| Design box parts | 4h | 5/27 | 5/27 |
| Design mechanism to raise surprise | 2h | 5/27 | 5/27 |
| Cut box parts | 2h | 5/28 | 5/28 |
| Mill box parts for sliding mechanism | 2h | 6/1 | 6/1 |
| 3D print surprise | 2h (active) | 5/29 | 5/29 |
| 3D print mechanism to raise surprise | 0h (combined with above) | 5/29 | 5/29 |
| Assemble components | 2h | 6/1 | 6/1 |
| Testing | 1h | 6/1 | 6/1 |
| Re-engineer & re-fabricate parts | 3h | 6/2 | 6/2 |
| Document project | 2h | 6/2 | 6/2 |